Mike Dunphy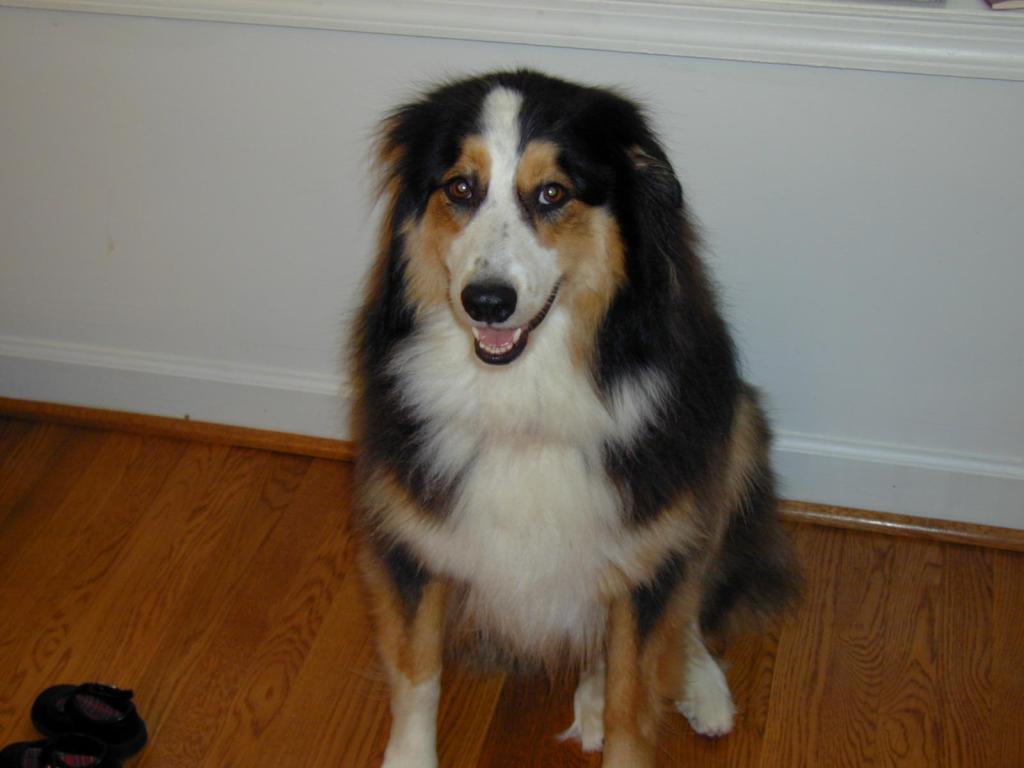 We had our beloved Australian Shepherd Mike put to sleep on Wednesday November 19, 2008.  I have been over come with grief and I am writing this on the 3rd day hoping that this can be my living memory of a beloved friend and devoted companion.
Mike came to us from the Aussie rescue league.  My first impression of this 14 month old pup was of his "crazed eyes" and a very head strong personality.  I remember our first meeting as I stayed in the family room and he was restlessly running through our house in a frenzy … first up and then down the stairs over and over. He wanted to stay close to the aussie rep in case she left and looked quite dejected when she left him with us.  He had lived a life of abuse and his coat had been recently shaved on the top  because of hot spots and sores.  He was also very over weight in addition to having a recent bout with flees.  We would learn with time that he had been beaten at times with a rolled up newspaper and had been left inside an apartment for long stretches of time (16 hours). To his credit, he maintained an independent spirit and was a happy guy even though he had been on his own most the first few years of his life. He was a terrific food hound and there was never enough food to satisfy him.
I realized early that a soft and quiet voice worked best with Mike.  Even though we had a few acres of land in the city, Mike and I would set off on walks each day to explore the city and parks around us.  I would keep a hand full of his dog food in my pockets and used the early walks (1 hour in duration) to teach him a series of tricks.  Within the 3rd day he had master every trick that I could think of which included the following.
left (move to my left side) … eventually meaning step left
sit
down
stand up (just a normal position) .. the toughest to teach him
on your back (position where I could brush him)
turn around (move from front to back so I didn't have to move to brush him)
leave it
don't pull (leave the leash slack)
On the fourth day he anticipated me pulling the food out before I knew it and would perform the tricks one right after the other to get them over with so he could have the treat quicker.  I then began trying to change the order so he would wait for me to ask but that just motivated him that much more to read my body language.  He could also sense or know something I was going to do or ask before I knew it.  It was a remarkable skill that would make me laugh over the years as he would seem to just know what I was thinking.  I often wish that I had been more aggressive and trained him for agility or herding because we would have been a great team.
I wasn't a big one for having the dog walk by my side the first few weeks but I did however insist that the 3 foot leash was slack and would turn around and go the opposite direction if I felt he was pulling me.  For anyone watching, it probably looked like we were going back and forth in the same spot as I was determined that I was leading and he felt like he was going to lead. Over time, he went off leash and we increased our walks gradually until we were doing 5+hours on our longer walks and up to 25 miles in a day.  It never felt like we had walked that far as we both enjoyed our time together.  He loved to explore and see new places and how far we could get. Sometimes we got caught in the rain and other times we began in the rain.  It didn't matter to us as it was our time and a special bond was formed over time where we loved and trusted each other.  If we were in the house, he would be only a few meters away watching me.  Initially, I remember thinking this was kind of odd as I could hear him at the other side of the door when I was in the bathroom trying to get closer even though the door was closed.  He developed into a great and calm swimmer in our pool and he would swim with me just gliding around aimlessly on hot and muggy days in Virginia and later in Medicine Hat, AB. I was proud that he was my dog and I think that I stood taller as we would walk the streets in the hopes of meeting others and their dogs.  I trusted him and he trusted me which allowed me to have him off leash even in the most difficult environments.  He would always be just a step away from me by my left knee. We played a game when he was off leash and that was a pull game.  I would remove the leash from his collar and he would try and grab it away from me but at no time did we slow down our pace. He would  do that game even in his last days as it was his favourite when we would start of walking. Provided he didn't slow me or him down, he would jump and twist and pull but we kept going in the forward direction.
When we moved to Medicine Hat, Alberta we were again on the discovery and slowly began mapping our new city.  We walked everywhere and when winter came with its minus 30 nights, we kept going.  We both looked forward to walking at nights where we could see the Christmas lights that started being displayed in late November until the first weeks of January.  By that time, his coat was thick and both our spirits had adapted to the cold windy Alberta nights.  After our walks, we would sit in front of the fire and I would read and drink a cup of tea and Mike would lay by my feet in contentment from another day of meeting our goal of getting out when most saner people had stayed inside.
He was a family dog to my two girls Anna and Samantha and when we travelled away and were not able to bring him with us, I gave him the responsibility of watching my grandfather who was in his 90's  When I got back, I would hear stories from my grandfather of how Mike wouldn't leave his side and would guard the doors for him.  He was always looking for an extra pat  on the head and always had that big grin that said, "I am happy and I loved my peoples".
Some of my favourite Mike stories are not his best behaved however.  We were visiting my sisters and mom for Christmas 3 months after we got him  and this was the first time Mike would meet my mom's dog and second time to visit my sisters dog.  When I first got Mike, he had been in a few dog fights as I began to socialize him and he had already had a run at my sisters dog who was quite a little tough guy himself.  We watched the interaction of 3 large dogs in a family room with 6-7 adults and all seemed to be going well.  The dogs appeared to tolerate each other.  My mom's dog was very submissive and was used to being dominated by my sisters dog but these two males were coexisting but only by ignoring each other.  It was on the 3rd day that I realized what had been going on.  It was then that I realized that my Mike who was playing up to everyone and getting compliments for being such a good dog was actually an instigator. We began to see some odd behavior from the other dogs as the entrance way to the family room was from the center walkway or underneath the coffee tables.  Both dogs were beginning to enter the room under the coffee tables.  We would see Mike in the middle walk way and he appeared to be grinning but on closer inspection he had positioned his head so that the people saw the happy side and the dogs were getting a fierce set of teeth and steely glare.  His herding instincts was terrorizing these poor dogs all the while he was playing up to us.
Another unique ability of mike was his tremendous control with his mouth.  He had a bad habit of being mouthy which I never did break him of for people that he wanted to herd.  His first toy was a stuffy football that he stole from a baby cousin during the second month we had him when all our family at our house for thanksgiving in Virginia. My wife's aunt who saw the new toy stolen decided to give this to Mike and he protected that toy his entire life.  No matter how hard he pulled and tugged with others or himself, he would always release it if he felt it tearing.  Every toy, we gave him he still had which shows just how intelligent this guy was.  That football stuffy however was his beloved toy and I would make sure he had it when he needed it most such as difficult and long car trips or after his operations, etc.
During his life, we struggled with some health issues.  There were strains at times from the walks but in his 5th year we noticed that he was bleeding when he urinated and found that he had a dozen bladder stones that had to be surgically removed.  That prevented him from ever having dog treats and normal dog food again and he was on a strict prescription diet for the remainder of his life.  I remember picking him up after his operation and he was still very drugged.  He struggled to walk and I gave him the command to get in the car and he did.  He was acting completely on instinct and trust with me and he managed to get into the house and then dropped by the door.  He stayed there for the next 48 hours as he was too tired to move, eat, and go out.  I would clean up around him and keep his bandages clean and dry. They had created a huge slash in his body to make the repairs.  I remember laying beside him and his breathing would soften and his eyes said thank me for being there for me.  I assured him that he would get better and we would continue our walks.
Now to the most painful part of having such a great guy.  We had to put him to sleep on Wednesday November, 19, 2008 at 10:00am.  We had made the decision on Monday and Tuesday was one of the most difficult days I have ever lived through.  I got up at 3:00am and laid by his side for the remaining time we had together.  It was an awesome day by Alberta standards for this time of year and I had planned on us being outside most of the day as we did final season yard work, put up the remaining Christmas lights, etc.  It was sad for me because as I completed chore after chore, my mind raced ahead that Mike wouldn't be there in the spring as he had been when we undo what we were doing this day.  The temperature was in the 60's and we carried Mike down to the grass earlier in the sheet we had been using the past few days since his weakness prevented him from getting up and down the 3 stairs of our deck. Tuesday was his worst day he had with us which cemented in my mind that we were doing the correct thing the next morning.  I helped him stand up so he could urinate in place but he fell over.  I let him lay there as I went about my work and soon found that he had got himself up the ramp I built for the lower 3 stairs and was sitting on the deck.  I helped him go down the 3 stairs and then down the ramp and we hung outside all day as he watched us.  Although he was sick and weak, he was happy to be with us (his peoples).  He said some farewells to his buddy (bandit) next door who came by for a visit and the two males proceeded to have a mark off as Mike used all his strength to get up and walk around.  His last day on Wednesday, I got up again at 3:00am and stayed with him the rest of my time.  Today, his eyes looked tired but he had energy.  When Betsy got up, we carried him downstairs and I pulled him up so he could walk on his own. He proceeded to do his business as he walked all over the back yard.  It was an amazing sight as this proud guy who had an enlarged heart and was having trouble breathing was able to walk and roam for about 5 mins.  He then laid down and rested and we came in having decided that it was such a nice morning that he could stay out there.  Within a few minutes, Mike had come up the ramp and the 3 stairs and was waiting by the door to be let in.  We let him in and he walked to his water bowl and drank.  Then I fed him and he ate… all while he was standing up.  We had been placing the bowls by his mouth since Sunday because he had no energy to get himself up. He then collapsed on the floor and watched us as we got both the girls ready for school.  Anna said good bye first and gave him a hug and Mike seemed to smile with that big grin.  Samantha (almost 4 years old) was going to leave and I said to her to say bye to Mike.  She stopped 3 feet from him and blew him a kiss.  Normally she would give him a big hug but this moment I remember because her understanding of bye was not permanent and she expected to see him again.  I then waited the short hour before it was time to pack him up.  I got him down the stairs without carrying him. His body had begin to fill with fluid and it was painful for him if I lifted him up so we were using the sheet now to lift him but he walked down with my help to steady him and no sheet. He walked from the back yard through the gate to the SUV which I had the tail gate open. I waited for Betsy to help me lift him up.  He knew he was going for a car ride and wasn't going to miss this chance.  I had tried to pick him up but he backed away telling me that he would wait for Betsy.  We placed the sheet down and he got on the sheet and laid down.  We picked him up and placed him in the back of our SUV.  I gave him a kiss on the head and walked back inside to never see my friend again.  He trusted me and I felt that I had broken that trust.  It was for his best and I told him that we were going to do this but those bright eyes looked at me as always and he grinned as to say… Another great day to be alive.
People can learn a lot from dogs.  I know I sure did.  Rest in Peace Mike.  You earned it.  You were the best and most kind dog I have ever known. You are missed.